Many visitors to our farm ask, "can you ride these horses?" Â The answer is absolutely yes! Â After searching carefully for the right trainer; educating ourselves on what it really takes to create a great riding companion; and understanding the needs of owners who love their horses like their children; we have launched our Performance Training operation.
In addition to breeding, performance training and riding lessons are now available for Arabian lovers who want to personally compete with their horse under saddle or who just want to cheer their horses on in the show ring from the stands.
Our Approach
We use an Integrated Training Approach, which is based on the unique requirements of each horse and considers health, mentality, communication and learning styles, and athleticism.  Understanding, supporting and nurturing these areas gives your horse a foundation for successful learning.
Our Process
We work with you to develop goals for you and your horse along with an action plan to achieve success that includes progress reports and regular communication.
We believe building a partnership under saddle begins with the principles of Dressage.  French for "Training", Dressage develops a horse's natural athletic ability and willingness to perform, thereby maximizing its potential as a riding horse.  Building on this training, we also offer Sport Horse, Hunter Pleasure, Jumping and Eventing.
If your goals include riding, we also offer training to help you partner with your horse in the ring or as a pleasure mount.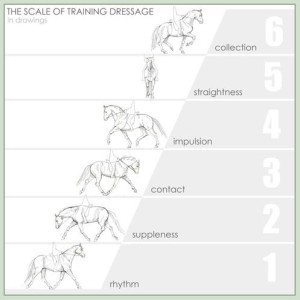 Our Extras
Special events are periodically planned to provide education and also to have fun with friends, family and horses.