Al Ameen offers you the chance to become involved with this incredible breed by offering only the very best companions.
All reasonable offers will be considered – purchase terms can be arranged on most sale horses – board and saddle training and lessons are also available.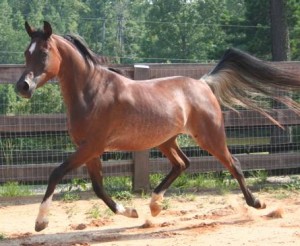 Faretta Moniet – Arabic for "Faretta's Wish" Â (Video)
(Pimlico RCA x Kalila RCA by Ruminaja Ali)
2004 Bay Mare "A good quality , very typey mare with a lovely temperament and great brood mare type"–Liz Salmon, International Arabian Judge & Consultant
Faretta Moniet has a pedigree steeped in greatness. The last foal of a Ruminaja Ali daughter, Kalila RCA, Faretta is also a daughter of Egyptian Event Supreme Champion Stallion Pimlico RCA who is also the sire of both the Gold and Silver Champion fillies at the 2013 Egyptian Event.  She has an outstanding breeding conformation and would be a competitor in the breeding (Halter) show ring. Faretta is a granddaughter of Bint Bint Jamil, who was imported in-utero from Germany and brings the blood of Jamil and his offspring to her pedigree. Egyptian Arabian foundation mare Moniet El Nefous also appears three times in Fred's pedigree, each time through her influential son *Ibn Moniet El Nefous. Faretta Moniet's name comes partially from her tail female great-granddam AK Farette, who comprises part of her rare maternal dam line leading back to El Dahma through Sabah. We are happy to advise and educate any new breeder on matching Faretta with a sire to produce quality offspring and can assist with the pregnancy and birth.  We also offer under saddle training for those interested in riding.  She would make a very eye catching mount.  All in all a very nice mare with lots of potential.
Faretta Moniet Pedigree
Faretta Moniet2004 Bay Mare
Pimlico RCA
Thee Desperado
The Minstril
AK Amiri Asmarr
           Bint Bint Jamil
Mohafez
Sehnab
Kalila RCA
Ruminaja Ali
Shaikh Al Badi
Bint Magidaa
GF Hafida Moniet
Naibn Moniet
AK Farette
Asils Emira – Arabic for "Pure Princess"
(Thee Asil x Desperados Pride)
Grey Mare
DOB 05/24/05
At Liberty Video: Â http://youtu.be/8jaDY7C6JRY
2008 Reserve Champion Sport Horse in Hand
Western Carolina AHA Fall Show 2009 Top 5
Egyptian Event, Extended Specialty 4-year old Mares 2009 Top 10
Egyptian Event, World Class Mares 4-5 year olds & Novice Halter Class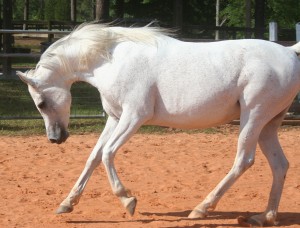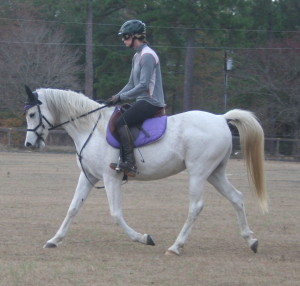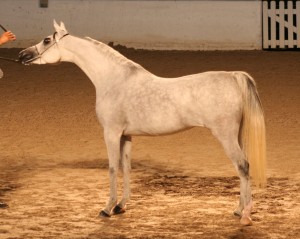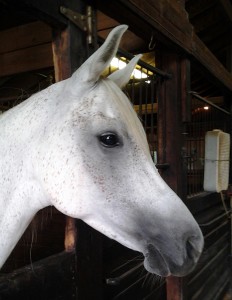 Asils Emira is a mare of quality Arabian type.  She is Dahmah Shahwaniya of the Farida Branch and exhibits the balance and harmony of mares from her tail female line along with the strength from ancestral sires including Sultan, Anter, & Sakr.  In addition, her pedigree contains 4 crosses to the famous sire The Egyptian Prince and 3 to the beloved Ruminaja Ali—a pedigree rich in beauty and talent.  Emira is professionally halter trained and has shown successfully; is currently training under saddle in Dressage with a potential future as an Eventer.  She is a kind mare even for a confident beginner rider.   Show ring, trail, breeding shed—Asils Emira has it all!
Asils Emira Pedigree
Asils Emira 2005 Grey Mare
Thee Asil
Thee Desperado
The Minstril
AK Amiri Asmarr
Alia Barakaa
Ruminaja Ali
Amira Barakaa
Desperados Pride
Thee Desperado
The Minstril
AK Amiri Asmarr
AK Gabbari
The Egyptian Prince
*Bint Gabbara
Rasheedah Al Ameen – Arabic for "Graceful"
(The Bandera+ x Noir Desir)
Chestnut Mare
DOBÂ 04/13/14
Video -Â https://youtu.be/N0LtjliIHHY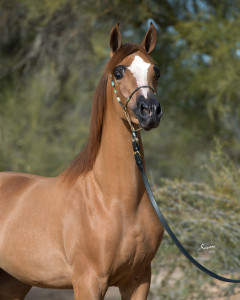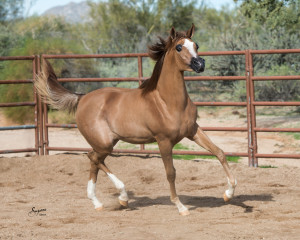 Grace is a beautiful filly sired by the very versatile Straight Egyptian (SE) stallion The Bandera++/ who is a champion in halter and performance winning at The Egyptian Event; Nationals; and Scottsdale.  Her dam is our lovely black mare Noir Desir.  The pairing of these two powerhouse Arabians has produced a very typey, tall, and conformationally correct filly.  She is professionally halter trained and is currently training in Sport Horse in Hand.  Grace will excel in the show ring and the breeding shed.  She is not only a lovely example of Arabian type, she is also bred to compete under saddle.  The future of SEs is here with Grace.
Rasheedah Al Ameen Pedigree
Rasheedah Al Ameen2014 Chestnut Mare
The Bandera++/
Alixir
The Elixir
The Prevue
Arabella MCA
The Infidel
DF Manon
Noir Desir
Alixir
The Elixir
The Prevue
Desperita
Thee Desperado
The Margarita