We love sharing our passion for the Egyptian Arabian horse with anyone who wants to listen!  Their beauty, intelligence, and true companionship inspire us to want everyone in the world to experience them first hand.
This area of our website is dedicated to newcomers who want to learn more about these horses.  We can't say it all on this page so we encourage you to come for a visit to Al Ameen.  You can spend quality time with our herd and us and we're sure you'll fall in love.
There are a few things we think are important to know when it comes to Egyptian Arabians.
More Than Beauty
They are like no other horse on the planet!  They have a rich history dating back thousands of years.  They have specific characteristics that set them apart from other breeds—sculpted heads; small, shell shaped ears that face inward; large dark eyes set wide apart; a swan like neck; high tail carriage; short back; strong hooves; and stamina.  They can perform in any discipline and they have a wonderful work ethic.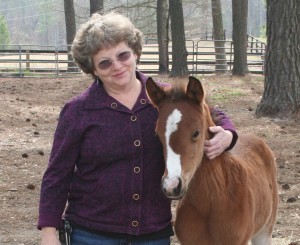 More Than a Horse
They are sensitive, thinking, loving creatures who strive to please and communicate their unique individuality.  Wow, pretty heavy stuff right!  It's true.  They require us to be smarter, compassionate, problem solvers, and good communicators and leaders.
More Than Buying A Horse
In our opinion, education is the key to preserving the legacy of the Egyptian Arabian.   You must be willing to educate yourself about the breed and how to best move forward as a breeder.  Seek out information, talk to breeders, visit farms, attend seminars and clinics, and meet horses up close and personal.
Occasionally throughout the year we have Farm Discovery Days at Al Ameen Arabians where we provide opportunities to learn about this breed, meet horses, and answer questions.  So look for news announcements describing our next event but if you'd like to come for a personal visit just send us an email or give us a call to set a date.  We're happy to have one-on-one visits too.
Training
Yes you can ride these beauties and we offer performance training and riding lessons. Â Check out our Training page to learn more.
Resources
To start your education we suggest you checkout the following sites.  They will start to give you some broad knowledge to help you begin your journey.  We're here as well so don't hesitate to get in touch with us.